Concussion Expert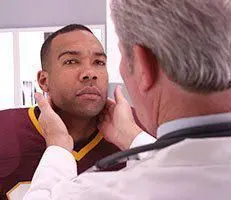 Are you or a loved one suffering from a recent concussion or the ongoing effects of a previous concussion? If you've had a head injury or are experiencing headaches, dizziness, nausea, or difficulty concentrating, visit Craig S. Rubenstein DC, DACBN, CCN in New York City or Medford, Long Island. Skilled in functional neurology and clinical nutrition, Dr. Rubenstein takes a multifaceted approach to treat patients with concussions and other head trauma. To request a personalized evaluation, call the office or book an appointment online today.
What is a concussion?
A concussion is a type of traumatic brain injury (TBI) that can cause long-term problems and even permanent brain damage. This type of injury can be the result of a severe blow to the head, often from a fall, a car crash, or an accident during a high-impact sport. Some people lose consciousness when they sustain a concussion.
Concussions are the most common type of TBI, and they can lead to a range of cognitive, emotional, and physical symptoms if left untreated. People who have had one concussion are more likely to sustain another, which can further damage the brain and lead to serious problems later in life, including dementia and Parkinson's disease.
What are the symptoms of a concussion?
Some people experience immediate symptoms after a concussion, while others may not notice anything out of the ordinary for a few days. Some of the most common symptoms of a concussion are:
Headache
Balance or coordination issues
Confusion, disorientation or irritability
Slurred speech
Dizziness
Nausea
Ringing in the ears
Delayed reaction times or responses
Fatigue
Feeling like you are in a fog

In the days following a concussion, you might also experience sleep disturbances, trouble concentrating, or amnesia surrounding the traumatic event. The signs of a TBI are sometimes subtle, so it's important to pay close attention to your symptoms and seek treatment right away if you suspect a concussion.
How are concussions treated?
Dr. Rubenstein uses a multimodal approach when treating concussions. After his daughter suffered a concussion during a ski trip, Dr. Rubenstein set out on a journey to develop a concussion treatment protocol that includes specific clinical nutritional protocols alongside functional neurological treatments.
The goal of concussion treatment is to reduce inflammation, oxidative stress, and excitotoxicity, so the brain can function normally. Your treatment plan is customized to meet your specific needs and may include:
Functional neurology: specific techniques for supporting neurological balance, nervous system equilibrium, and optimal cranial sacral function
Clinical nutrition: targeted nutrients and diets to reverse neurological energy crises, oxidative stress, excitotoxicity, inflammation, and mitochondrial dysfunction
Physical activity: recommendations for safe and restorative exercises that support body and brain health
Brain based exercise: home exercises to stimulate low functioning brain areas

Dr. Rubenstein's nutritional, dietary, and functional methodology is specifically geared to help patients of all ages recover from a concussion quickly.
To schedule a consultation with Dr. Rubenstein, call the office or book an appointment online today.